Ahhhh...the joy of diving....and the weight of it, especially when coupled with an interest in photography! As airlines continue to tighten luggage weight allowances, once up to 70 lbs. per checked bag and now reduced to 50 lbs., it is becoming increasingly difficult to carry a lot of equipment without paying additional fees. Fortunately, at least for one airline (TACA) I checked on, a fee of $25 was all that was charged for a bag between 50-70 lbs. Of course, that was one-way too, so figure on $50 round-trip. Still, if that extra weight is needed in the form of a rugged case (my Pelican 1650 weights 30 lbs.) to carry expensive equipment that gets checked as normal luggage, $50 isn't really so much to spend.
The greater concern in my opinion, is TSA and any other airport security officials who choose to open a bag to inspect it behind the scene, without paying attention to properly handle the equipment and to repack it as per how it was originally packed. That's where form-fit foam inserts should help, as each item may only have one appropriate place where it can be packed. But, what about just the fact that a case was opened? Knock on wood, I've always been lucky to never have had any problems with checked gear, but there's always a first time that I'd rather avoid if possible, particularly in light of some of the stories I've seen posted by fellow divers/photographers in internet forums. I don't like the risk elements involved for potential theft or damage. So, to what extent I can, the solution is to put as much equipment as possible into a carry-on bag. As I also anticipate carrying my large Dell Inspiron 9300 notebook computer with me (a smaller one for travel would be nice, but I can't justify buying 2 computers), it was important that I get a bag large enough to accommodate it, should it be necessary to limit my carry-on to a single bag.
Above and beyond the needs of carrying photography equipment, another concern for the traveling diver is to include their regulator, mask (especially if a prescription mask), and perhaps a dive computer as part of their carry-on gear. These could all be carried pretty easily in a separate small bag if need be, as the 2nd allowable carry-on.
The only bag I found that met my travel requirements is the LowePro CompuTrekker Plus AW. This bag was one of very few that would swallow my Dell notebook PC...fitting so close as if seemingly designed for it. There is a version with wheels, but it will not accommodate a large notebook computer. Airline requirements for a carry-on are currently a bag of 45 linear inches and weighing up to 40 lbs. (American Airlines reference), while some (such as TACA) restrict the weight to a stingy 22 lbs. Hopefully they don't check the weight that close...22 lbs. is far too easily achieved with photography equipment. The specs on the LowePro bag are:
Size (Main): 13.0W x 5.3D x 18.9H in.
Size (Notebook): 11.6W x 1.9D x 18.7H in. (Accommodates 17" screen)
Size (Overall): 13.0W x 7.2D x 18.9H in. = 39.1 linear inches
I decided to assess how much dive photo gear I could manage to pack into this Lowepro backpack. For a dive trip, the photo below illustrates all of what I might consider carrying, but it is obviously far more than could fit into this single backpack. Although I packed the bag inclusive of notebook PC, it is unlikely I will actually do so, favoring to instead carry the PC in its separate case. That alone would reduce the weight of the backpack by 8 lbs., and notebook compartment (the back of the bag, zippered along the edge) could then be used to stow a t-shirt, shorts, socks, and a few toiletries that are far less bulky and heavy.
What went into the backpack and what didn't? Click on the photo below to find out...revealing a red checkmark on items packed and green "prohibited" symbols on the items left out (I know, green should have been good to "go", red for "no-go").
Items not packed:
Nikonos V, UW-Nikkor15mm lens, and DF-11 viewfinder - No room in this bag if all gear for the DX200 is packed, but the Nikonos is insured and small enough to travel pretty easily in a checked bag. I largely expect to see it replaced fully by the housed Nikon D200 system and may sell it, but a small u/w camera like this - albeit a film camera - does still have its place, especially with the sweet 15mm lens!


Nikon D70 - Useful for topside photography in that I'd not have to remove the D200 from the housing to use it (actually, I don't have to, but carrying around a housed camera gets tiring!). But, there simply isn't room to pack the D70 in the carry-on and it isn't worth packing in my checked luggage. I may simply tote along my small Olympus C5050 digicam for casual topside photos. The D200 is pretty easy to remove from a dry housing, so that can still be done as the needs dictate.


Sony camcorder - I rarely shoot any video, so I'd likely leave my camcorder behind for most of my dive travel unless specific plans dictate a need for it.


Epson P-2000 Photo Viewer - I bought this largely as a backup for times when I don't travel with my notebook computer. Still, it could simply be worn on my belt or carried in a pocket, apart from my luggage. As it doubles as an MP3 player and portable hard drive, there is still some use for it and I'd just pack the AC adapter in checked luggage.


UK40 Dive Light - Toss it into the dive bag...no need really for it with the photo gear.


Scubapro G500 Regulator w/Oceanic Wireless Transmitter - Since it won't fit into the backpack, this will go along in a separate carry-on, most likely my notebook computer case. Otherwise, I'll pack the reg into my dive bag and carry the transmitter in my carry-on, along with the wrist-mount VT3 computer/receiver.
What is the end result? After mounting the focus and zoom gears onto the applicable lenses, plus wrapping the 10.5mm fisheye in a cloth and tucking it inside the flat port, here is how all the red-checked items were organized into the backpack, as well as a photo of it all zipped up.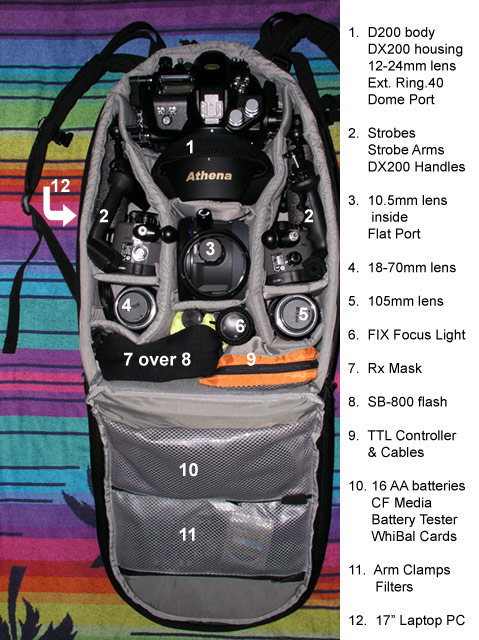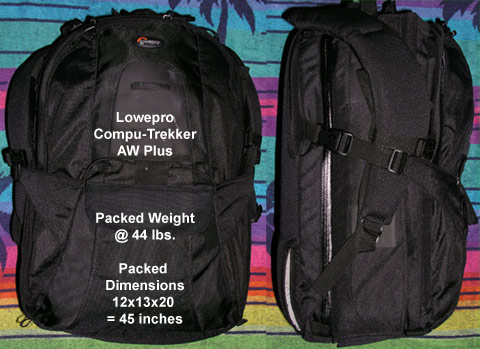 That bit of gray showing at the lower left of the bag view from the side isn't the bag trying to bust open, but rather is where the padded cummerbund/waist belt can be installed if desired. It's useful if lugging the bag very far, but I usually remove it for travel due simply to the extra bulk it adds, making it more difficult to stuff the backpack into an airplane's overhead bin.
So, while my measurements suggest the packed bag will meet airline carry-on requirements, I'll not know for sure until I try stuffing it into an overhead compartment where I'd prefer it to travel. But, the weight is 4 lbs. over American Airlines allowance and double that of TACA. I've never had a carry-on bag's weight checked and others I've talked to report the same, so that's really what I'm counting on for when I fly TACA. But, how can we pare that total weight down? First, I'll note that I forgot to remove the batteries from the strobes and focus light, so we can start there:
NiMH AA Rechargeable Batteries: 16 installed, plus 16 more and a small 4-ounce, 4-cell AA charger (larger, quicker charger to be in checked luggage) in the accessory pocket. Move all into checked luggage. Weight Savings: 2 lbs. 7 oz.


Dell Notebook PC: Pulled out and put into notebook case as 2nd allowable carry-on, this will also allow a bit more compression of the backpack to reduce dimensions by a linear inch at leat. To the notebook case I'll add the notebook a/c power brick, regulator, and Epson P-2000 with its a/c adapter to that bag, perhaps along with 8 lithium AA batteries for the strobes (40% lighter than NiMH) and ignoring the focus light battery needs. Weight Savings: 8 lbs. 2 oz.


Change of clothing, small toiletries: As packed, no provisions were made for a change of clothing and toiletries in the event checked baggage was delayed or lost. Adding a lycra dive skin, t-shirt, shorts, socks, and toiletries shouldn't add too much weight, but I'll make it a number that adds in conveniently. Weight Added: 1 lb. 9 oz.
Leaving everything else in the backpack so that I still have a fully functional set of photo equipment to go dive with, I am now under the American Airlines limit while still over the TACA limit with: Packed Weight @ 35 lbs.
OK, so the checked luggage gets delayed....if need be, I can rent a BCD and fins and still go diving and get some photography done. After all, I've got my critical dive equipment with me...prescription mask, reg, and dive computer.
But, altering the carry-on to be only the fragile, electronic items and not worrying about a set of functional photo equipment, just how much more can I pare down the back weight if necessary?
DX200 housing handles. Weight Savings: 1 lb. 5 oz.

ULCS strobe arms and clamps. Weight Savings: 1 lb. 2 oz.

TTL controller & cables. Weight Savings: 2 lb. 1 oz.
Given that I can only save about 4.5 lbs., which still finds my bag at roughly 31 lbs. and over the limit for a TACA carry on, removing these items only has the value of creating space that would allow me to also pack my D70 camera body (1 lb. 11 oz.), camcorder (1 lb. 13 oz.), or both. Or I could opt to take along the Nikonos V with lens and viewfinder (4 lbs. 3 oz.) instead. Of course, that would then mean taking along at least a small supply of film and hand-carrying that to avoid x-ray machines.
So...there are possibilities here that give a lot of food for thought on what and how to pack things based upon my priorities. Overall, I favor the idea of packing a functional photo system, moving the notebook PC to a 2nd bag, and just crossing my fingers that the weight of my carry-on backpack is never tested by an airline with tight weight limits. After all, even rugged equipment that can be checked isn't necessarily inexpensive, and you never know who might get careless and lose something when inspecting luggage!
Enjoy YOUR dive travel!
Ambress